It's getting close to Mothers Day, and like always, you have GREAT intentions but life gets busy and you've found yourself scrambling at the last minute to figure out the perfect gift for mom. These would also make perfect gifts for a gal pal, teacher, or any special female in your life!
Speaking from mom experience here, making your mom, grandma, or significant other something for a special occasion, means so much! That was an easy task when you were in elementary school and your teacher just told you what to make, but it gets harder to find the perfect g gift for mom as you get older.
We've created the perfect list of easy, quick and inexpensive DIY gifts for mom, between us, we have mom experience and daughter experience, so know all about time constraints, being on a budget AND about the type of gifts moms love to receive!
The key with creating the perfect gifts for moms, is to focus on things that help them pamper themselves, something from the heart or something related to things they love.
We've created a list of 16 amazing DIY gifts for moms that are perfect for Mother's Day, her birthday, Christmas or just because!
Related Posts
12 DIY Fun and Easy Pom Pom Crafts
How to Make a Chunky Knit Blanket in Under One Hour
16 Boho Inspired Crafts for your Cozy Home
DIY Slippers Gift Basket for Her
We love this idea, because even if your mom already had slippers, they wear out, they get stinky and honestly, having a variety of slippers depending on your mood is totally awesome!
Emergency Chocolate Stash
Idea by Eighteen 25
http://eighteen25.com/2015/04/moms-emergency-stash/
For those who who aren't crafty, want to do one stop shopping at Target and as g go add a little humor to mom's day!
Honestly? What mom doesn't need a secret emergency chocolate stash in their lives? Trust me, we might already have one 😉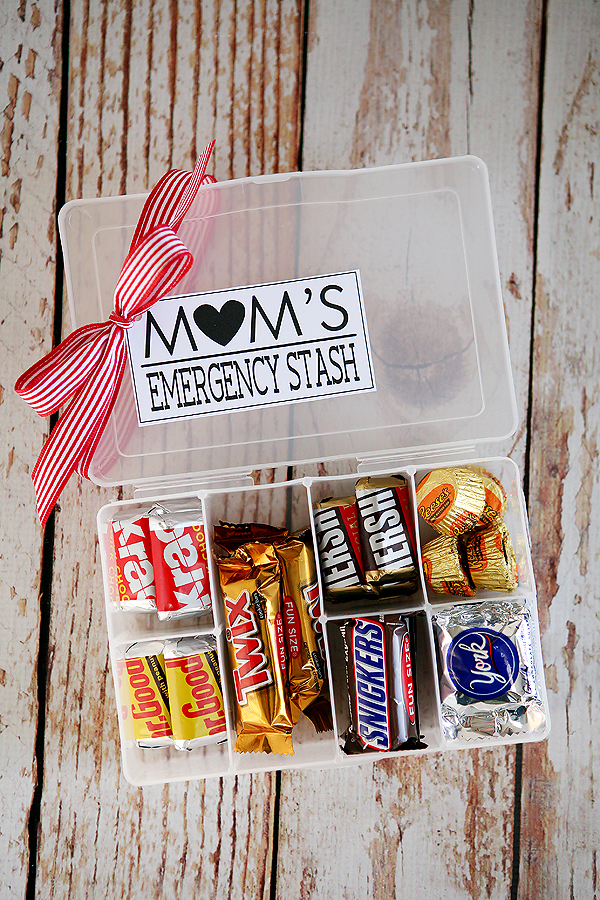 Painted Cactus Rocks
We unfortunately couldn't track down who put together this awesome cactus tutorial, but the photo should be self explanatory! 🙂
The perfect DIY gift to make you feel like a kid again? Surely one of your teachers or even your mom had you make painted rocks as a kid.
We're bringing back the painted rocks for adults too! Just make sure to make yourself one too, because this is too awesome to just make one.
DIY Floral Mom Letters
For this adorable mom project, you can do your on stop shopping at your local craft store.
Another idea besides spelling MOM is to just use her initials or the letter from her first name.
Mothers Day in a Jar
You can find these large clear glass jars at a store like Target in the housewares department. Simply dropping in small little inexpensive goodies makes this a super easy gift for her. As a bonus, a clear glass jar is something super useful she can use to store other things around the house after she gets through her special treats.
Pedicure in a Jar
While this project was written for a bridal shower, making a pampering gift in a jar for mom is a super sweet surprise!
DIY Raspberry Lemon Sugar Scrub
Idea by Reasons to Skip the Housework
Sugar scrubs are so easy and low cost to make, you probably have most of these ingredients at home already.
DIY 20 Minute Tote Bag
Make a Simple Air Plant Terrarium
https://hairsoutofplace.com/2018/03/21/how-to-take-care-of-air-plants-easy-air-plant-lanterns/
Creating a simple and low-cost air plant terrarium is a super great gift for her! You can learn more about the supply ideas we used to make an easy air plant terrarium and the directions on how to take care of air plants too.
DIY Pom Pom Flowers
If you aren't quite up for giving your favorite female live plants or even flowers, making this adorable pom pom flowers is something she can keep you all year long.
Easy DIY Pom Pom Rug
Making mom an adorable and easy pom pom rug would be a welcome gift she can use in just about any room in the house. Make sure to make one for yourself too!
DIY Coffee Cup Candles
Making your own candles is way more easy than you probably ever realized. Why not make it extra cozy and inviting by pouring the wax into a super cute mug or vintage tea cup instead of a basic jar?
Make Your Own Chunky Knit Blanket in 45 Minutes
If you've been contemplating whether or not to make a chunky knit blanket, making one for mom or another special female in your life is an awesome place to start! We recently wrote a tutorial on how to make a chunky knit blanket for beginners. You can even do with by arm knitting to keep the cost down even more!
Even if you don't want to make a huge blanket, you, of course, could do a smaller project like a chunky knit pillow!
Pineapple Wine Bottle
Sooo…do you think it's odd if I go ahead and just make this for myself??? What a clever way to do something fun for her, and of course if you aren't quite 21 yet, you can easily substitute a yummy sparkling non-alcoholic version.
We'd love to hear about which awesome quick and easy gift for her you decided to pick! Finding the perfect gift for mom, a girlfriend, grandma, friend or teacher is easy when you make something yourself that's from the heart! <3